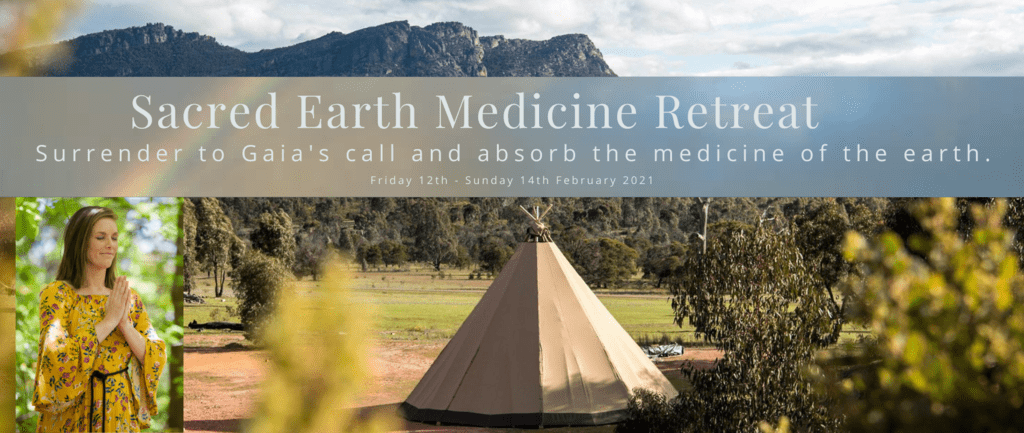 Have the humble medicine of the earth offer its magic to you over a magical weekend and be shown how powerful you are when you are in harmony with Gaia.
Walk away from this retreat with clear direction, a strong connection and inspired intuition.
Feel your body relax as you are traditionally welcomed to Gariwerd country, Grampians National Park, sacred place and spiritual heartland of Victoria.

Breathe in open-hearted connection and feel welcomed with friends in sacred space and circle.

Delight in morning yoga and meditation and enjoy nourishing meals from homegrown and locally sourced produce.

Bathe in sacred ceremony with light language, sound healing and sacred dance and come away with vivid visions and activated intuitive gifts.

Deepen your connection with the trees, bark, wildlife, rock and land and uncover the earth's wisdom that's waiting for you to receive.

Immerse yourself in therapeutic earth art, laugh with new friends and relish in plenty of time for yourself to walk, swim, reflect and have a clear path forward unravel before your eyes.

Imbibe cacao in ceremony, paint light codes on ancient rocks and work with the medicine of the stars as you stay grounded with the earth so you know your true power is from within.
Held at Kailash Collective Retreat, in Wartook, Victoria, sleep in the lodge, glamp or camp outside under the stars. Lodge and glamping accommodation is limited. This will work by first in best dressed so do not delay booking your place if you want to sleep in a bed!
This retreat will be a special weekend just for you. Lay your body on sacred ground, rest with the trees and experience mother earth in a way you never have.
Learn about indigenous culture, hear the ancestors' wisdom and return to your everyday life with strong certainty and undeniable pleasure.

Any special dietary requirements will be catered for.
Check-in time is at 2pm Friday 12th February 2021 and the retreat program will finish at 3pm on Sunday 14th February 2021.
Bronte Spicer is a teacher, mentor, space holder and intuitive. She is an advanced meditation teacher and certified Kiloby Inquiries Facilitator and teaches individuals, students and staff how to practise advanced mindfulness techniques to overcome mental illness. Bronte holds life-changing retreats across Australia, teaches sole traders how to follow their intuition and grow their dream business and she comes alive speaking at spiritual festivals and holding Sacred Earth Gatherings on djadjawurrung country. Bronte is a published author in the celebrated collaboration 'More Than a Mum'. She is an award-winning author for Elephant Journal and is currently writing her own book on the gentle way to dissolving depression.
Kate trained with Vitality Yoga in 2014. Kate's personal daily yoga practice enables her to live from her heart and brings gentleness and love into her daily interactions. Kate's flow classes encourage connection to breath and movement, creating a rhythmic flow that supports yogis to honour their body and soul. Kate is also a passionate Yin yoga teacher. Taught under renowned leading Yin teacher trainer Jennifer Crescenzo, Kate's practice of Yin yoga is an opportunity to slow down, observe the body, breathe and draw awareness within. Kate helps support practitioners to be gentle with their thoughts, loving with their actions and create a space within themselves to connect, release and let go physically, emotionally and energetically.
David Wegman established Kailash Collective Retreat under a humble vision from a path of Hatha Yoga, Meditation, Mindfulness, Sound Meditation and Plant Medicine. He sees that the great mystery of life calls forth those actors it needs for any given moment to expand together and individually in unity. Both in his personal process and as a facilitator of consciousness expansion, growth and healing, he advocates and encourages a balance between the adoption of a personal moral imperative and the cultivation of surrender to the soul. He sees that this dance of masculine/feminine first resonates inside the individual, then outwards into relationship, the earth and beyond.
I can't wait to share this magic with you!
This retreat is sold out.
Email me at brontespicer@gmail.com to express your interest for next year.
Email Bronte Spicer at brontespicer@gmail.com if you have questions. Retreat fees are 100% non-refundable for change of mind.