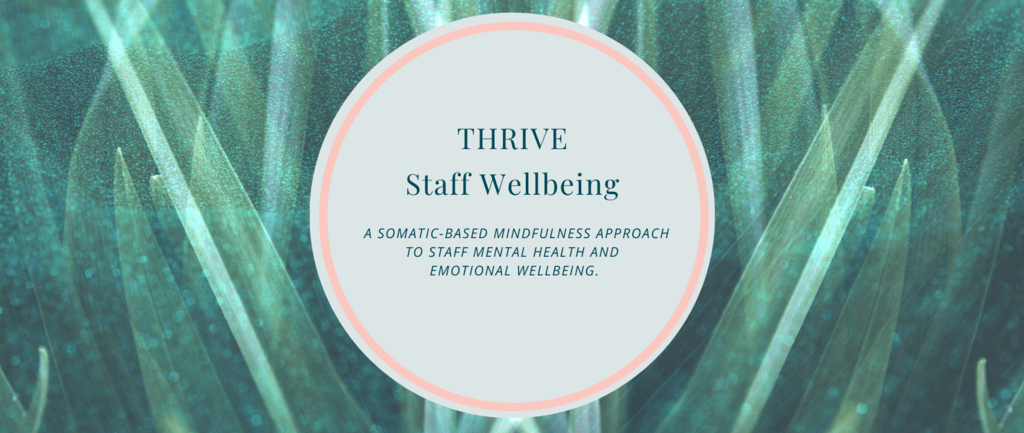 THRIVE Staff Wellbeing is an evidence-based somatic approach mindfulness program for your staff to to improve their mental health and emotional wellbeing.
With a bottom-up approach your staff will be able to identify what drives their workplace overwhelm and stress and learn practical and effective tools to process their own work-related issues, negative self-talk and personal problems that feed into the workplace.
This program teaches the Kiloby Inquiries (KI) which is a set of applied mindfulness techniques supported by the latest evidence on the relationship between trauma and the body and has improved the mental health of thousands of individuals right across the world.
Whether it is managing difficult behaviours in the classroom, having confronting conversations at parent-teacher interviews or tackling report-writing time, your staff will walk away from this program with a direct, practical approach to processing their own emotions, managing everyday triggers and reducing stress.
THRIVE Staff Wellbeing will help your staff to:
Be emotionally available for their students

Positively collaborate with their colleagues

Find ways to switch off from work and refresh the mind

Avoid stress and burning out

Build productive focus

Improve staff morale 

Develop better relationships with parents

Manage student behavior with a clear mind

Meet report writing timelines with ease

Solve professional issues with respect, initiative and innovation

Increase work success, satisfaction and fulfillment.
MENTAL CLARITY IN THE CLASSROOM

Learn about the Kiloby Inquiries, applied mindfulness, the new findings on trauma and the body and how this can support professional performance for staff in schools.

HOLDING SPACE

Try natural rest, a simple mindfulness technique that is available to anyone, anywhere to calm the mind, relax the body, regulate the nervous system and prepare staff to listen to and be emotional available for students.

PRIMARY CONCEPTS

Identify the root drivers of challenging school issues using the Velcro Effect, Deficiency Stories and the Boomerang and recognise when an issue at school stems from a negative sense of self and core deficiency stories.

PRACTICAL TOOLS

Practice Simple Enquiry, Mining, Utility Enquiry and Reverse Enquiry to process thoughts and emotions related to a current challenge and/or past traumatic events.

EMOTIONAL INTELLIGENCE

Develop emotional intelligence, practice somatic awareness and experience body intelligence for emotional regulation for self, students and colleagues.

ADDITIONAL SUPPORT FOR INDIVIDUAL STAFF

One-on-one KI sessions available for staff seeking further support to improve their mental health at an additional cost.
School staff are passionate about creating a positive difference in children's lives and THRIVE Staff Wellbeing is a vital program to support them in their endeavour.
This program is delivered in one day, two half days or eight one-hour sessions over one term. You can select the format that is most suitable to your school timetable.
Book THRIVE Staff Wellbeing for your school and receive free access to BEYOND BELIEF SELF-STUDY, an online self-paced course for all staff who are looking for additional support to improve their mental health and emotional wellbeing.
Call Bronte Spicer on 0478927896 or email her at brontespicer@gmail.com to discuss or book this program for your school.